Regional cuisine in the Hotel Hubertus
Local & simply good
Regional is not a trend, but a mind-set

Regional and sustainable are words of our time. But at the end of the day it is important to put these words into action in our daily lives. For these reasons, in the Hotel Hubertus, we try and reduce packaging to the minimum, large jars and containers help to avoid rubbish and many products are sourced on site or homemade. This philosophy is carried out throughout the menu. From schnaps, that is distilled by a family member, to meat and sausage from our own hunting ground to the trout and char from the local fishing pond.
"We cook without frills. We cook fresh. Simple and good."
Markus Wolf, Host in the Hotel Hubertus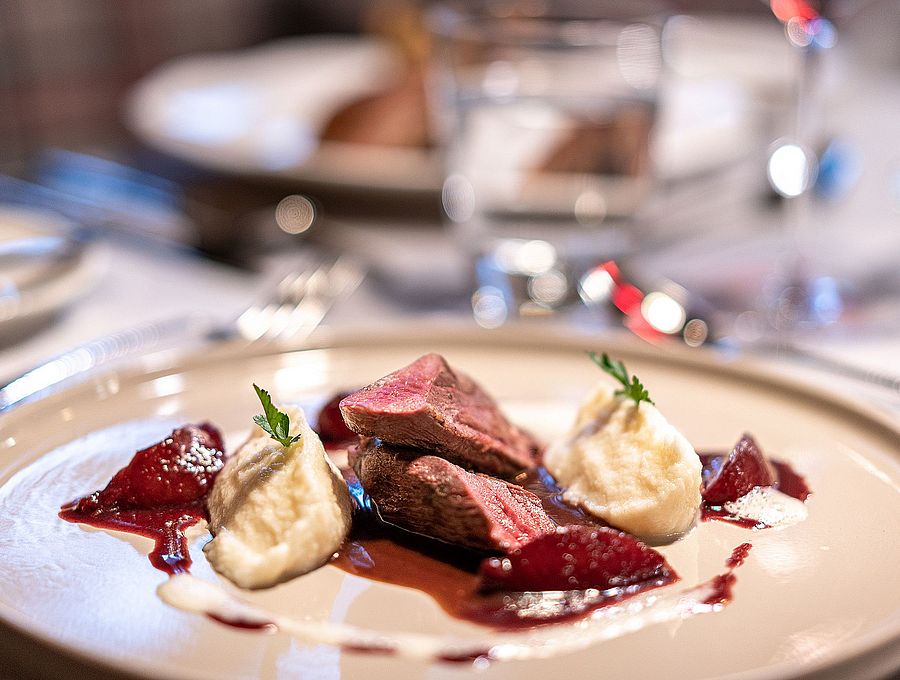 Regional counts, not only in the kitchen
At the Hotel Hubertus, the regional philosophy is not only evident in the food. But in all areas. The hosts attach great importance to sustainability. For example, the Hotel Hubertus is heated with regional energy from one of the four biomass heating plants in the region. This is good for the environment and, thanks to the local orientation, also particularly crisis-proof. The high-speed internet is also operated by a local company.
Thanks to the fibre optic connections, you will always enjoy fast and interference-free internet at the Hotel Hubertus. In addition, you will find beauty products from Resa Wants from Lech in our hotel. The lotions and creams are make from regional herbs.